Research & Process
Diversify
Final Designs
You can find the final designs of this project here.
Research Document
You can read my online research document here.
The contemporary society is super diverse
As Jan Blommaert describes; People come from all over the world and bring a new dimension of diversity along – super diversity – which manifests in different ways: such as ethnic, linguistic, cultural and religious. But this diversity is also been seen in appearance, such as skin color, hair color and the shape of the eyes.
There is a huge fixation generated on appearance, which has an increasing influence on society. People are often uncertain and women feel insecure without make-up. A multibillion business has raised, which respond on this fixation; beauty salons, blogs, cosmetics, television programs and plastic surgery. It determines our lives and we are constantly searching for perfection. Advertisement is obvious responding on this. And in this super-divers society, advertisement does not consider boundaries and differences in appearance.
De hedendaagse samenleving is superdivers
Zoals Jan Blommaert beschrijft: Mensen komen van over de hele wereld en brengen een nieuwe dimensie van diversiteit met zich mee – superdiversiteit – die zich op allerlei vlakken manifesteert: etnisch, taalkundig, cultureel en religieus. Maar deze diversiteit is ook te zien in uiterlijke kenmerken, zoals de huidskleur, haarkleur, en de kleur en de vorm van de ogen. 
De fixatie op het uiterlijk heeft steeds meer invloed op de samenleving. Mensen zijn vaak onzeker, en vrouwen voelen zich ongemakkelijk zonder make-up. Er is een miljarden-business ontstaan die hierop inspeelt; schoonheidssalons, blogs, cosmetica, tv-programma's en plastische chirurgie. Het bepaalt in hoge mate ons leven we zijn constant opzoek naar perfectie. Reclame speelt daar overduidelijk ook op in. En in deze superdiverse samenleving, wordt er geen rekening gehouden met grenzen en uiterlijke verschillen.
The context in which we live, has a major influence on the dealing with our appearance. So I style my hair, I use make-up in a certain way and I regularly sunbath for a more browner skin color; I make my own choice to do so… Or is my environment playing a bigger role than I think? Would I look different if I was born in another environment?
This leads to the central question of my research:
What is the relation between the context in which we live and our external presentation; in a society where we are looking for a unique identity, but also want to meet 'the norm'?
During my research I specified this to women and the face; in particular the skin, the hair en the eyes. We are born with these characteristics, and so it can be extra painful when people judge you negatively on this.
De context waarin we leven, heeft een grote invloed op de omgang met ons uiterlijk. Zo stijl ik regelmatig mijn haar, gebruik make-up en ga regelmatig zonnen voor een wat bruinere huid; dit zijn mijn eigen keuzes… Of heeft mijn omgeving een grotere invloed dan ik denk? Zou ik er anders uitzien als ik in een andere leefomgeving geboren zou zijn? 
Dit leidt tot de centrale vraag van mijn onderzoek:
Wat is de relatie tussen de context waarin we leven en onze uiterlijke presentatie; in een samenleving waarin we enerzijds op zoek zijn naar een unieke identiteit, maar anderzijds willen voldoen aan 'de norm'?
Tijdens mijn onderzoek heb ik dit gespecificeerd tot vrouwen en gezichtskenmerken, vooral de huid, het haar en de ogen. We zijn met deze uiterlijke kenmerken geboren, en dus kan het extra pijnlijk zijn als mensen je hier negatief op beoordelen. 
First I researched how diversity in appearance originated in history, by geographical influences. And also the contemporary factors that influence our interaction with our appearance. But to research how people deal with their appearance in different environments, I conducted my own research. First by offering a online questionnaire which is spread and shared all over the world.. And second, by skype-interviews with people in these different countries, so I could ask more about their changes and 'norms' in that area. The stories that I gathered I wanted to visualize.
Eerst heb ik onderzocht hoe diversiteit is ontstaan in de geschiedenis, door onder andere geografische invloeden. Maar ook de hedendaagse factoren die de omgang met ons uiterlijk beïnvloeden. Maar om te onderzoek hoe mensen met hun uiterlijk omgaan in verschillende omgevingen, ben ik mijn eigen onderzoek gestart. Eerst door het opzetten van een online vragenlijst die verspreid en gedeeld is over de hele wereld. En daarnaast door skype-interviews te houden met vrouwen in verschillende landen, zodat ik hen meer vragen kon stellen over de veranderingen en de 'normen' in die omgeving. De verhalen die ik heb verzameld wilde ik visualiseren.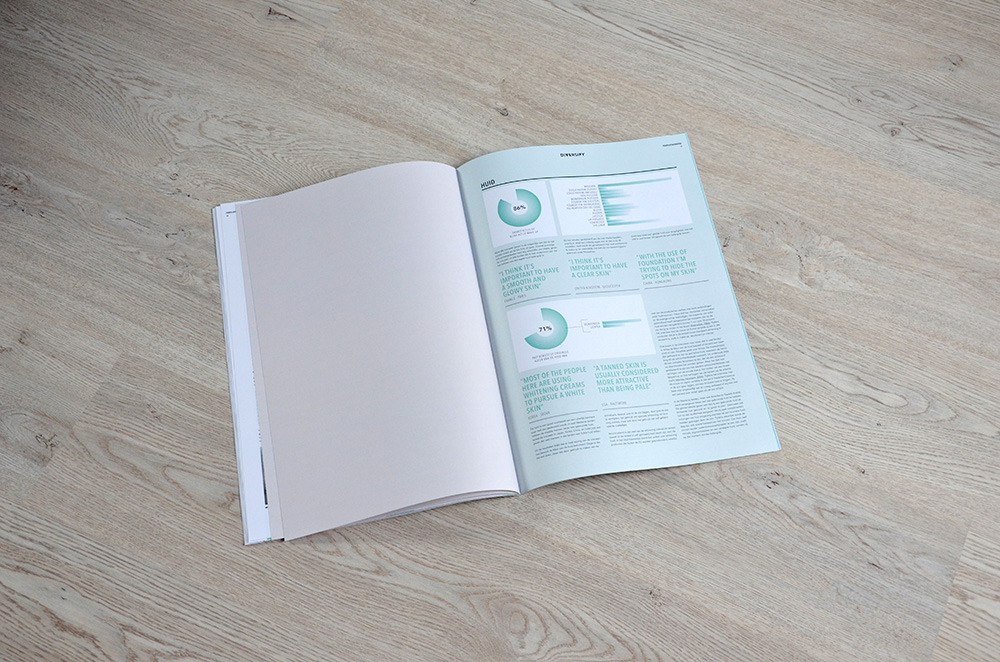 So parallel to this research, I was constantly doing image- and form-research. The information I gathered, I tried to organize, edit, directing en visualize this. So it was a constantly dialogue between information and image. The research was not a goal itself, but a way to come to my final designs.
Parallel aan dit onderzoek, deed ik constant beeld- en vorm-onderzoek. De informatie die ik verzamelde, probeerde ik te organiseren, bewerken, te sturen en te visualiseren. Het was een constant dialoog tussen informatie en beeld. Het onderzoek was niet een doel op zichzelf, maar een manier om tot mijn eind ontwerpen te komen.